Rabbit anti-Phospho Rad17 (S645) Antibody, Affinity Purified
£343.00
Shipping is calculated in checkout
Antibody was affinity purified using a synthetic peptide representing phosphorylation at Serine 645 and surrounding residues of Rad17 immobilized on solid support. Immunogen for A300-153A was a phosphorylated synthetic peptide, which represented a portion of human Rad17 (GeneID 5884) around serine 645 according to the numbering given in entry NP_002864.1. Immunoglobulin concentration was determined by extinction coefficient: absorbance at 280 nm of 1.4 equals 1.0 mg of IgG.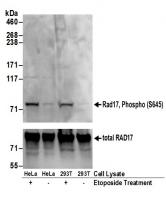 Alternative Names:
CCYC, cell cycle checkpoint protein (RAD17), cell cycle checkpoint protein RAD17, HRAD17, R24L, RAD1 homolog, RAD17 homolog, Rad17-like protein, RAD17SP, RAD24, RF-C activator 1 homolog, RF-C/activator 1 homolog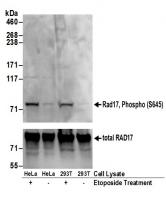 Detection of human Rad17, Phospho (S645) by western blot. Samples: Whole cell lysate (50 µg) from HeLa and HEK293T cells treated with 100 µM etoposide for 2 hours (+) or mock treated (-) cells. Antibodies: Affinity purified rabbit anti-Rad17, Phospho (S645) antibody A300-153A (lot A300-153A-2) used for WB at 0.4 µg/ml. To examine total Rad17, the membrane was reblotted with goat anti-Rad17 antibody BL239 (lower panel). Detection: Chemiluminescence with exposure times of 30 seconds (upper and lower panels).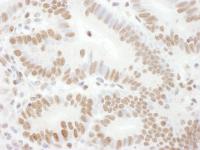 Detection of human Phospho Rad17 (S645) by immunohistochemistry. Sample: FFPE section of human colon carcinoma. Antibody: Affinity purified rabbit anti-Phospho Rad17 (S645) (Cat. No. A300-153A Lot2) used at a dilution of 1:1,000 (1µg/ml). Detection: DAB
Antibodies from Bethyl Laboratories, Inc.: