Rabbit anti-V5 Tag Antibody Affinity Purified
Rabbit anti-V5 Tag Antibody Affinity Purified
£189.00
Shipping is calculated in checkout
Rabbits were immunized with a synthetic peptide representing amino acid residues 95 to 108 (GKPIPNPLLGLDST) of RNA polymerase alpha subunit of simion virus 5 conjugated to KLH. Antibody was isolated by affinity chromatography using the peptide immobilized on solid support. Antibody concentration was determined by extinction coefficient prior to conjugation: absorbance at 280 nm of 1.4 equals 1.0 mg of IgG. Molar enzyme/antibody protein ratio is 4:1.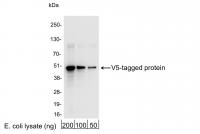 Formulation:
Phosphate Buffered Saline (PBS) containing 0.09% Sodium Azide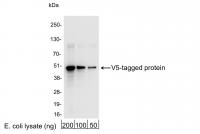 Detection of V5-tagged Protein by western blot. Samples: 200, 100, or 50 ng of E. coli whole cell lysate expressing a multi-tag fusion protein. Antibodies: Affinity purified, rabbit anti-V5 antibody A190-120A used for WB at 0.04 µg/ml (1:25,000). Detection: Chemiluminescence with an exposure time of 3 seconds.
Antibodies from Bethyl Laboratories, Inc.: