Rabbit anti-c-Kit Antibody, Affinity Purified
Rabbit anti-c-Kit Antibody, Affinity Purified
£337.00
Estimated delivery Fri 25 Jun
Shipping is calculated in checkout
Antibody was affinity purified using an epitope specific to c-Kit immobilized on solid support. The epitope recognized by A303-252A maps to a region between residue 925 and 976 of c-Kit using the numbering given in entry NP_000213.1 (GeneID 3815). Antibody concentration was determined by extinction coefficient: absorbance at 280 nm of 1.4 equals 1.0 mg of IgG.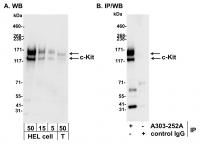 Alternative Names:
CD antigen CD117, CD117, C-Kit, c-Kit protooncogene, mast/stem cell growth factor receptor Kit, MASTC, p145 c-kit, PBT, piebald trait protein, proto-oncogene c-Kit, proto-oncogene tyrosine-protein kinase Kit, SCFR, soluble KIT variant 1, tyrosine-protein
Formulation:
Tris-citrate/phosphate buffer, pH 7 to 8 containing 0.09% Sodium Azide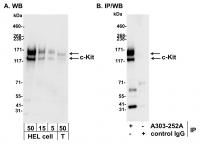 Detection of human c-Kit by western blot and immunoprecipitation. Samples: Whole cell lysate from human erythroleukemia (HEL) cells (50, 15, and 5 µg for WB; 1 mg for IP, 20% of IP loaded and HEK293T (T; 50 µg). Antibodies: Affinity purified rabbit anti-c-Kit antibody A303-252A used for WB at 0.1 µg/ml (A) and 1.0 µg/ml (B) and used for IP at 3 µg/mg lysate. Detection: Chemiluminescence with exposure times of 10 seconds (A) and 3 seconds (B).