Rabbit anti-Ubiquitin Antibody, Affinity Purified
Rabbit anti-Ubiquitin Antibody, Affinity Purified
£337.00
Shipping is calculated in checkout
Antibody was affinity purified using an epitope specific to Ubiquitin immobilized on solid support. The epitope recognized by A300-317A maps to a region between residues 1 and 50 of human Ubiquitin using the numbering given in entry P62988.(GeneID 7311). Immunoglobulin concentration was determined by extinction coefficient: absorbance at 280 nm of 1.4 equals 1.0 mg of IgG.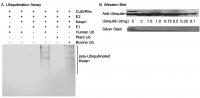 Alternative Names:
CEP52, HUBCEP52, L40, RPL40, Ubiquitin A-52 residue ribosomal protein fusion product 1, ubiquitin carboxyl extension protein 52, ubiquitin-52 amino acid fusion protein, ubiquitin-60S ribosomal protein L40, ubiquitin-CEP52
Formulation:
Tris-citrate/phosphate buffer, pH 7 to 8 containing 0.09% Sodium Azide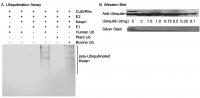 Detection of Ubiquitin by western blotting of Products from an Ubiquitination Assay and Purified Ubiquitin. Samples: A) Ubiquitination assay was performed as described in Zhang et al., 2004, Mol. Cell. Biol. 24(24):10941-10953. B) Purified ubiquitin applied in decreasing amounts from 5 to 0.1 µg. Antibody: Affinity purified rabbit anti-Ubiquitin antibody (Cat. No. A300-317A) used at 0.4 µg/ml for western blot. Detection: Alkaline phosphatase conjugated secondary antibody and development with NBT/BCIP for 10 minutes (A and B).
Antibodies from Bethyl Laboratories, Inc.: