Goat anti-GST Tag Antibody Biotinylated
Goat anti-GST Tag Antibody Biotinylated
£213.00
Shipping is calculated in checkout
Goats were immunized with Glutathione-S-Transferase (GST) from Schistosoma japonicum. Antibody was isolated by affinity chromatography using GST immobilized on solid support and conjugated to biotin. Antibody concentration was determined by extinction coefficient prior to conjugation: absorbance at 280 nm of 1.4 equals 1.0 mg of IgG.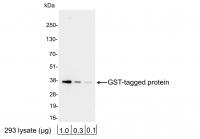 Formulation:
Phosphate Buffered Saline (PBS) containing 0.2% BSA and 0.09% Sodium Azide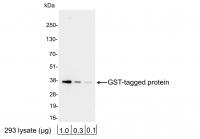 Detection of GST-tagged Protein by western blot. Samples: 0.1, 0.3, or 1.0 µg of 293 cell lysate expressing a GST-tag fusion protein. Antibodies: Affinity-purified, biotin-conjugated, goat anti-GST antibody A190-121B used for WB at 0.06 µg/ml (1:15,000). Detection: Streptavidin-HRP (0.1 µg/ml) and chemiluminescence with an exposure time of 60 seconds.
Antibodies from Bethyl Laboratories, Inc.: