SDF1 alpha Antibody
£339.00
Shipping is calculated in checkout
SDF-1 alpha and beta are stromal derived CXC chemokines, and signal through the CXCR4 receptor. SDF-1alpha and beta chemoattract B and T cells, and have been shown to induce migration of CD34+ stem cells. Additionally, the SDF-1 proteins exert HIV suppressive activity in cells expressing the CXCR4 receptor.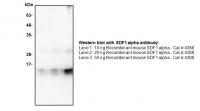 Alternative Names:
Stromal-Cell Derived Factor-1, CXCL12, PBSF
Immunogen:
Recombinant mouse SDF1 alpha (Cat # 4388)
Formula:
100 µg (0.5 mg/ml) of antibody in PBS pH 7.2, 0.01 % BSA, 0.03 % ProClin®, and 50 % glycerol.
Antibodies from BioVision: