Rabbit anti-IDO1 Recombinant Monoclonal Antibody [BLR040F]
£227.00
Shipping is calculated in checkout
Recombinant antibody was purified from cell culture supernatant.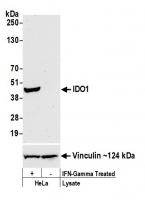 Alternative Names:
IDO, IDO-1, INDO, indolamine 2,3 dioxygenase, indole 2,3-dioxygenase, indoleamine 2,3-dioxygenase 1, indoleamine-pyrrole 2,3-dioxygenase
Immunogen:
residues 1-403 (full length)
Formulation:
Borate Buffered Saline (BBS) pH 8.2 with 0.1% BSA and 0.09% Sodium Azide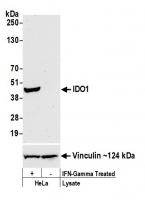 Detection of human IDO1 by WB of HeLa treated with IFN-gamma (+) or mock treated (-). Antibody: Rabbit anti-IDO1 recombinant monoclonal [BLR040F] (A700-040). Secondary: HRP-conjugated goat anti-rabbit IgG (A120-101P). Lower Panel: Rabbit anti-Vinculin (A302-535A).