PicoProbeTM Methylglyoxal Assay Kit (Fluorometric)
£594.00
Estimated delivery Wed 28 Apr
Shipping is calculated in checkout
Methylglyoxal ( mg, 2-oxopropanal, pyruvic aldehyde), a by-product of glycolysis, is a highly toxic, reactive dicarbonyl compound. It causes non-enzymatic glycation of proteins which yields irreversible advanced glycation end products (AGEs), leading to cross-linking or degradation of proteins. mg is associated with several pathologies including diabetes, aging and neurodegenerative diseases. Furthermore, recent studies have suggested that mg may induce carbonyl stress-type schizophrenia. BioVision's PicoProbeTM Methylglyoxal Assay Kit (Fluorometric) can detect mg using an enzyme-coupled reaction which reduces the fluorogenic probe. The reduced fluorophore produces a stable signal (Ex/Em= 535/587nm), which is directly proportional to the amount of mg in samples. The assay is simple, reproducible and can specifically detect as low as 6 pmol of mg in a 100 µl reaction.
Data sheet/protocol: View or download
MSDS: View or download
Applications:

This Kit provides a simple, highly sensitive in vitro assay for detecting Methylglyoxal levels in biological samples.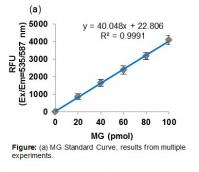 Product Type:
Biochemical and cellular assays