Caspase-9 Antibody
£339.00
Shipping is calculated in checkout
Caspase-9 is one of the most important caspases among the caspase family members. Caspase-9 is synthesised as inactive pro-enzyme that is processed in cells undergoing apoptosis. The processed caspase-9 consists of large (32-35 kD) and small (10 kD) subunits which associate to form an active enzyme. Activated caspase-9 in turn cleaves and activates caspase-3, one of the proteases responsible for the proteolytic cleavage of many key proteins in apoptosis.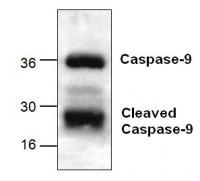 Alternative Names:
CASP-9 , EC 3.4.22.62 , ICE-like apoptotic protease 6 ,ICE-LAP6 ,Apoptotic protease Mch-6 ,Apoptotic protease-activating factor 3 , Apaf-3
Species Reactivity:
Human, mouse, rat, hamster, bovine, rabbit, pig
Immunogen:
Synthetic peptide surrounding amino acid 290 of human caspase-9
Formula:
100 µg (0.2 mg/ml) affinity purified rabbit anti-caspase-9 polyclonal antibody in phosphate buffered saline (PBS), pH 7.2, containing 30% glycerol, 0.5% BSA, 0.01% thimerosal.
Antibodies from BioVision: