SIRT6 Antibody
£339.00
Shipping is calculated in checkout
Human Sirtuins function as intracellular regulatory proteins with mono-ADP-ribosyltransferase activity. Sirtuin 6 (SIRT6) is a NAD-dependent protein deacetylase with activity towards Lys-9 and Lys-56 of histone H3. It modulates acetylation of histone H3 in telomeric chromatin during the S-phase of the cell cycle. It is required for genomic stability and for normal IGF1 serum levels and normal glucose homeostasis. It also regulates cellular senescence and apoptosis. Unlike most sirtuins, SIRT6 preferentially removes long-chain fatty-acyl, rather than acetyl, protein modifications. This activity regulates secretion of the inflammation-associated protein TNF-α.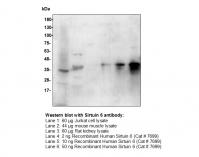 Alternative Names:
SIRT6, NAD-dependent Deacetylase Sirtuin-6, Mono-ADP-ribosyltransferase Sirtuin 6, SIR2-like Protein 6, SIR2L6
Immunogen:
Recombinant Human Sirtuin 6 (Cat # 7699)
Formula:
100 µg (0.5 mg/ml) of antibody in PBS pH 7.2, 0.01 % BSA, 0.03 % ProClin®, and 50 % glycerol.
Antibodies from BioVision: