tetranor-PGDM ELISA Kit
Catalogue number:
CAY501001-480 strip wells
£1750.00
Shipping is calculated in checkout
tetranor-PGDM is a major metabolite of PGD2 found in human and murine urine. Normal levels of tetranor-PGDM in human and murine urine are 1.5 ng/mg creatinine and 8.1 ng/mg creatinine respectively. Cayman's tetranor-PGDM ELISA is a competitive assay that can be used for quantification of tetranor-PGDM in urine.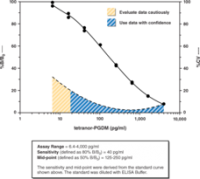 Alternative Names:
tetranor-prostaglandin d metabolite eia kit, tetranor-pgd metabolite
Assays & Kits from Cayman Chemical: