Rabbit anti-KIZUNA Antibody, Affinity Purified
Rabbit anti-KIZUNA Antibody, Affinity Purified
£337.00
Shipping is calculated in checkout
Antibody was affinity purified using an epitope specific to KIZUNA immobilized on solid support. The epitope recognized by A300-945A maps to a region between residue 275 and 325 of human KIZUNA (C20orf19) using the numbering given in entry NP_060944.2 (GeneID 55857). Immunoglobulin concentration was determined by extinction coefficient: absorbance at 280 nm of 1.4 equals 1.0 mg of IgG.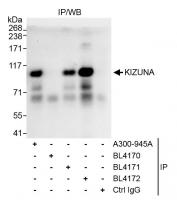 Alternative Names:
C20orf19, centrosomal protein kizuna, HT013, Kizuna, NCRNA00153, PLK1S1, polo-like kinase 1 substrate 1, RP69
Formulation:
Tris-citrate/phosphate buffer, pH 7 to 8 containing 0.09% Sodium Azide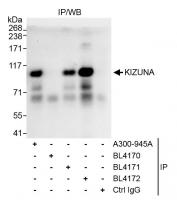 Detection of human KIZUNA by western blot of immunoprecipitates. Samples: Whole cell lysate (1 mg for IP, 20% of IP loaded) from HeLa cells. Antibodies: Affinity purified rabbit anti-KIZUNA antibody A300-945A used for IP at 3 µg/mg lysate. KIZUNA was also immunoprecipitated by rabbit anti-KIZUNA antibodies BL4171 and BL4172, which recognize downstream epitopes. For blotting immunoprecipitated KIZUNA, BL4172 was used at 1 µg/ml. Detection: Chemiluminescence with an exposure time of 10 seconds.
Antibodies from Bethyl Laboratories, Inc.: