Rabbit anti-ASPP2 Antibody, Affinity Purified
Rabbit anti-ASPP2 Antibody, Affinity Purified
This product is no longer available to order.
Antibody was affinity purified using an epitope specific to ASPP2 immobilized on solid support. The epitope recognized by A300-820A maps to a region between residue 825 and 875 of human Apoptosis-Stimulating Protein of p53, 2 (53BP2) using the numbering given in entry NP_001026855.1 (GeneID 7159). Immunoglobulin concentration was determined by extinction coefficient: absorbance at 280 nm of 1.4 equals 1.0 mg of IgG.
Applications:

WB, IP, IHC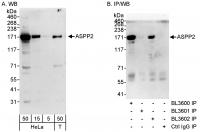 Alternative Names:
53BP2, apoptosis-stimulating of p53 protein 2, apoptosis-stimulating protein of p53, 2, ASPP2, BBP, BCL2-binding protein, p53-binding protein 2, P53BP2, PPP1R13A, renal carcinoma antigen NY-REN-51, tumor suppressor p53-binding protein 2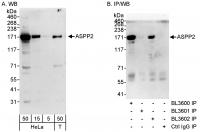 Detection of human ASPP2 by western blot and immunoprecipitation. Samples: Whole cell lysate from HeLa (5, 15 and 50 µg for WB; 1 mg for IP, 20% of IP loaded) and HEK293T (T; 50 µg) cells. Antibodies: Affinity purified rabbit anti-ASPP2 antibody BL3602 (Cat. No. A300-820A) used for WB at 0.04 µg/ml (A) and 1 µg/ml (B) and used for IP at 3 µg/mg lysate (B). ASPP2 was also immunoprecipitated by rabbit anti-ASPP2 antibody BL3600 (Cat. No. A300-819A), which recognizes a downstream epitope. Detection: Chemiluminescence with exposure times of 30 seconds (A and B).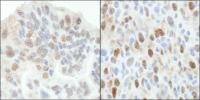 Detection of human and mouse ASPP2 by immunohistochemistry. Sample: FFPE section of human ovarian carcinoma (left) and mouse squamous cell carcinoma (right). Antibody: Affinity purified rabbit anti-ASPP2 (Cat. No. A300-820A Lot1) used at a dilution of 1:5,000 (0.2µg/ml) and 1:1,000 (1µg/ml). Detection: DAB
Antibodies from Bethyl Laboratories, Inc.: