Rabbit anti-PTEN Antibody, Affinity Purified
Rabbit anti-PTEN Antibody, Affinity Purified
£356.00
Shipping is calculated in checkout
Antibody was affinity purified using an epitope specific to PTEN immobilized on solid support. The epitope recognized by A300-700A maps to a region between residue 325 and 375 of human phosphatase and tensin homolog using the numbering given in entry NP_000305.2 (GeneID 5728). Immunoglobulin concentration was determined by extinction coefficient: absorbance at 280 nm of 1.4 equals 1.0 mg of IgG.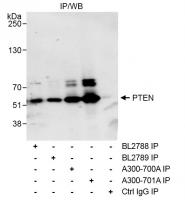 Alternative Names:
10q23del, BZS, CWS1, DEC, GLM2, MHAM, mitochondrial phosphatase and tensin protein alpha, mitochondrial PTENalpha, MMAC1, MMAC1 phosphatase and tensin homolog deleted on chromosome 10, mutated in multiple advanced cancers 1, Phosphatase and tensin homolog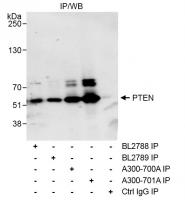 Detection of human PTEN by western blot of immunoprecipitates. Samples: Whole cell lysate (1 mg for IP, 20% of IP loaded) from HeLa cells. Antibodies: Affinity purified rabbit anti-PTEN antibody A300-700A (lot A300-700A-1) used for immunoprecipitation at 3 µg/mg lysate. PTEN was also immunoprecipitated by rabbit anti-PTEN antibodies BL2788, BL2789 and A300-701A. For blotting immunoprecipitated PTEN, A300-701A was used at 1 µg/ml. Detection: Chemiluminescence with an exposure time of 10 seconds.
Antibodies from Bethyl Laboratories, Inc.: