Goat anti-MnSOD Antibody, Affinity Purified
Goat anti-MnSOD Antibody, Affinity Purified
£322.00
Shipping is calculated in checkout
Antibody was affinity purified using an epitope specific to MnSOD immobilized on solid support. The epitope recognized by A300-448A maps to a region between residue 75 and 125 of human Manganese Superoxide Dismutase using the numbering given in entry NP_000627.2 (GeneID 6648). Immunoglobulin concentration was determined by extinction coefficient: absorbance at 280 nm of 1.4 equals 1.0 mg of IgG.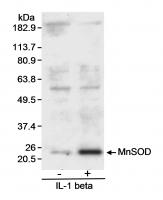 Alternative Names:
epididymis secretory sperm binding protein, indophenoloxidase B, IPOB, IPO-B, manganese-containing superoxide dismutase, mangano-superoxide dismutase, Mn superoxide dismutase, MNSOD, Mn-SOD, MVCD6, superoxide dismutase [Mn], mitochondrial, superoxide dism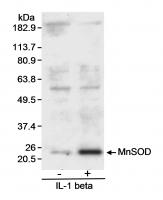 Detection of MnSOD by western blot. Samples: Whole cell lysate (30 µg) from rat vascular smooth muscle cells left untreated (-) or treated with IL-1 beta (3 ng/ml) for 24 hours. Antibody: Affinity purified goat anti-MnSOD (Cat. No. A300-448A) used at 0.4 µg/ml. Detection: Chemiluminescence with 3 minute exposure.
Antibodies from Bethyl Laboratories, Inc.: