Rabbit anti-DBC1/p30 DBC Antibody, Affinity Purified
£322.00
Shipping is calculated in checkout
Antibody was affinity purified using an epitope specific to DBC1 immobilized on solid support. The epitope recognized by A300-433A maps to a region between residue 875 and the C-terminus (residue 923) of human Deleted in Breast Cancer 1 using the numbering given in TrEMBL entry Q6P0Q9 (GeneID 57805). Immunoglobulin concentration was determined by extinction coefficient: absorbance at 280 nm of 1.4 equals 1.0 mg of IgG.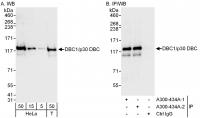 Alternative Names:
cell cycle and apoptosis regulator protein 2, cell division cycle and apoptosis regulator protein 2, DBC.1, DBC1, DBC-1, DBIRD complex subunit KIAA1967, deleted in breast cancer 1, Deleted in breast cancer gene 1 protein, KIAA1967, NET35, p30 DBC, p30 DBC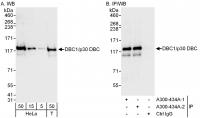 Detection of human DBC1/p30 DBC by western blot and immunoprecipitation. Samples: Whole cell lysate from HeLa (5, 15 and 50 µg for WB; 1 mg for IP, 20% of IP loaded) and HEK293T (T; 50 µg) cells. Antibodies: Affinity purified rabbit anti-DBC1/p30 DBC antibody A300-434A (lot number A300-434A-2) used for WB at 0.1 µg/ml (A) and 1 µg/ml (B) and used for IP at 3 µg/mg lysate. DBC1/p30 DBC was also immunoprecipitated by a previous lot (A300-434A-1) of this antibody. Detection: Chemiluminescence with exposure times of 10 seconds (A) and 1 second (B).
Antibodies from Bethyl Laboratories, Inc.: