Rabbit anti-Phospho XRCC1 (S485/T488) Antibody, Affinity Purified
£343.00
Shipping is calculated in checkout
Antibody was affinity purified using an epitope specific to phosphorylation at Ser 485 and Thr 488 of XRCC1 immobilized on solid support. The epitope recognized by A300-231A maps to a region of surrounding residues Ser 485 and Thr 488 of human X-ray Repair Complementing protein 1 using the numbering given in SwissProt entry P18887 (GeneID 7515). Immunoglobulin concentration was determined by extinction coefficient: absorbance at 280 nm of 1.4 equals 1.0 mg of IgG.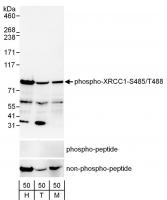 Alternative Names:
DNA repair protein XRCC1, RCC, SCAR26, X-ray repair complementing defective repair in Chinese hamster cells 1, X-ray repair cross-complementing protein 1
Immunogen:
surrounding serine 485 and threonine 488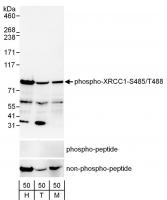 Detection of human and mouse Phospho-XRCC1-S485/T488 by western blot. Samples: Whole cell lysate (50 µg) from asynchronously growing HeLa (H), HEK293T (T) and mouse NIH-3T3 (M) cells. Antibodies: Affinity purified rabbit anti-Phospho-XRCC1-S485/T488 antibody A300-231A (lot A300-231A-2) used for WB at 0.1 µg/ml. The binding of the antibody was blocked by pre-incubation with the phospho-peptide but was not blocked by pre-incubation with the non-phosphorylated peptide. Detection: Chemiluminescence with an exposure time of 30 seconds.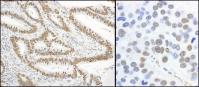 Detection of human and mouse Phospho-XRCC1-S485/T488 by immunohistochemistry. Sample: FFPE sections of human stomach carcinoma (left) and mouse renal cell carcinoma (right). Antibody: Affinity purified rabbit anti- Phospho-XRCC1-S485/T488 (Cat. No. A300-231A Lot2) used at a dilution of 1:5,000 (0.2µg/ml). Detection: DAB
Antibodies from Bethyl Laboratories, Inc.: