Goat anti-RENT1 Antibody, Affinity Purified
Goat anti-RENT1 Antibody, Affinity Purified
£322.00
Shipping is calculated in checkout
Antibody was affinity purified using an epitope specific to RENT1 immobilized on solid support. The epitope recognized by A300-036A maps to a region between residue 250 and 300 of human Regulator of Nonsense Transcripts 1 (up-frameshift mutation 1 homolog) using the numbering given in entry NP_002902.2 (GeneID 5976). Immunoglobulin concentration was determined by extinction coefficient: absorbance at 280 nm of 1.4 equals 1.0 mg of IgG.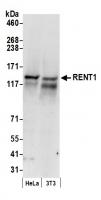 Alternative Names:
ATP-dependent helicase RENT1, delta helicase, HUPF1, nonsense mRNA reducing factor 1, NORF1, pNORF1, regulator of nonsense transcripts 1, RENT1, smg-2, smg-2 homolog, nonsense mediated mRNA decay factor, UPF1 regulator of nonsense transcripts homolog, up-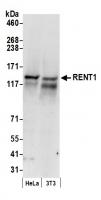 Detection of human and mouse RENT1 by western blot. Samples: Whole cell lysate (50 µg) from HeLa and mouse NIH 3T3 cells prepared using NETN lysis buffer. Antibody: Affinity purified goat anti-RENT1 antibody A300-036A (lot A300-036A-1) used for WB at 0.4 µg/ml. Detection: Chemiluminescence with an exposure time of 30 seconds.
Antibodies from Bethyl Laboratories, Inc.: