Goat anti-T7 Tag Antibody Affinity Purified
Goat anti-T7 Tag Antibody Affinity Purified
This product is no longer available to order.
Goats were immunized with T7 (MASMTGGQQMG) conjugated to KLH. Antibody was isolated by affinity chromatography using the peptide immobilized on solid support. Antibody concentration was determined by extinction coefficient: absorbance at 280 nm of 1.4 equals 1.0 mg of IgG.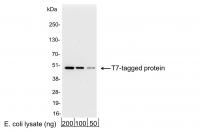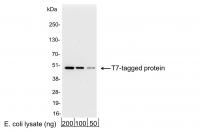 Detection of T7-tagged Protein by western blot. Samples: 200, 100, or 50 ng of E. coli whole cell lysate expressing a multi-tag fusion protein. Antibodies: Affinity purified, goat anti-T7 antibody A190-216A used for WB at 0.04 µg/ml (1:25,000). Detection: Chemiluminescence with an exposure time of 30 seconds.
Antibodies from Bethyl Laboratories, Inc.: