Ubiquilin (UBQLN1) Rabbit Polyclonal Antibody
£517.00
Shipping is calculated in checkout
Rabbit Polyclonal Antibody against UBQLN1 (Center)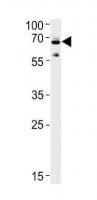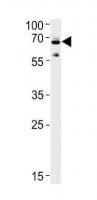 Ubiquilin1 Antibody (P311) (Cat.# TA302119) western blot analysis in SH-SY5Y cell line lysates (35ug/lane).This demonstrates the Ubiquilin1 antibody detected the Ubiquilin1 protein (arrow).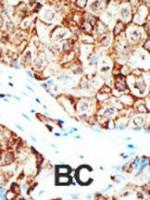 Formalin-fixed and paraffin-embedded human cancer tissue reacted with the primary antibody, which was peroxidase-conjugated to the secondary antibody, followed by AEC staining. This data demonstrates the use of this antibody for immunohistochemistry; clinical relevance has not been evaluated. BC = breast carcinoma; HC = hepatocarcinoma.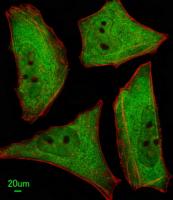 Immunofluorescent analysis of Hela cells, using Ubiquilin1 Antibody (Center) (Cat. #TA302119). TA302119 was diluted at 1:100 dilution. Alexa Fluor 488-conjugated goat anti-rabbit lgG at 1:400 dilution was used as the secondary antibody (green). Cytoplasmic actin was counterstained with Dylight Fluor® 554 (red) conjugated Phalloidin (red).