NOTCH1 Rabbit Monoclonal Antibody (Clone ID: EP1238Y)
£598.00
Shipping is calculated in checkout
Rabbit Monoclonal Antibody against NOTCH1 (Clone EP1238Y)


Western blot - Notch1 antibody [EP1238Y]; Anti-Notch1 [EP1238Y] antibody at 1/500 dilution + Hek293 cell lysate at 10 ug.Secondary.goat anti-rabbit HRP at 1/2000 dilution.Observed band size : 125 kDa.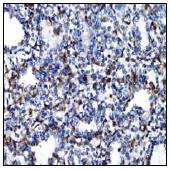 Immunohistochemistry (Paraffin-embedded sections) - Notch1 antibody [EP1238Y]; TA300836, at a 1/50 dilution, staining human Notch1 in fetal lung tissue, using Immunohistochemistry, Paraffin embedded tissue.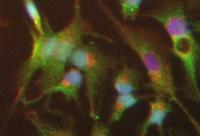 ICC/IF image of TA300836 stained HepG2 cells. The cells were incubated with the antibody overnight at 4. The secondary antibody (green) was Alexa Fluor 488 goat anti-rabbit IgG (H+L) used at 1:1000 for 1h. Alexa Fluor 594 WGA was used to label plasma membranes (red) at 1:200 for 1h. DAPI was used to stain the cell nuclei (blue) at a concentration of 1.43uM.