Neurogenin3 (NEUROG3) Mouse Monoclonal Antibody [Clone ID: OTI5A8]
£422.00
Shipping is calculated in checkout
Anti-Ngn3 (Neurogenin3) mouse monoclonal antibody, clone OTI5A8 (formerly 5A8)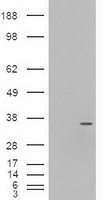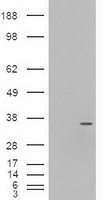 HEK293T cells were transfected with the pCMV6-ENTRY control (Left lane) or pCMV6-ENTRY NEUROG3 (RC224767, Right lane) cDNA for 48 hrs and lysed. Equivalent amounts of cell lysates (5 ug per lane) were separated by SDS-PAGE and immunoblotted with anti-NEUROG3. Positive lysates LY402827 (100ug) and LC402827 (20ug) can be purchased separately from OriGene.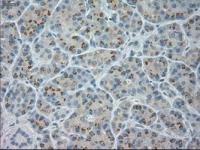 Immunohistochemical staining of paraffin-embedded Human pancreas tissue within the normal limits using anti-NEUROG3 mouse monoclonal antibody (TA500090) at 1:150 dilution at 1:150 dilution.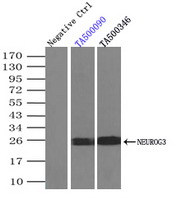 Immunoprecipitation of NEUROG3 by using TrueMab monoclonal anti-NEUROG3 antibody (Negative control: IP without adding anti-NEUROG3 antibody). For each experiment, 500ul of DDK tagged NEUROG3 overexpression lysates (at 1:5 dilution with HEK293T lysate), 2ug of anti-NEUROG3 antibody and 20ul (0.1mg) of goat anti-mouse conjugated magnetic beads were mixed and incubated overnight. After extensive wash to remove any non-specific binding, the immuno-precipitated products were analyzed with rabbit anti-DDK polyclonal antibody.