Sonic Hedgehog (SHH) Mouse Monoclonal Antibody [Clone ID: OTI10H6]
£422.00
Shipping is calculated in checkout
SHH (Sonic Hedgehog) mouse monoclonal antibody, clone OTI10H6 (formerly 10H6)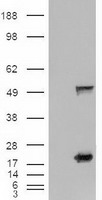 Species Reactivity:
Human, Monkey, Mouse, Rat, Dog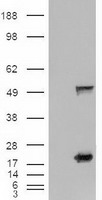 HEK293T cells were transfected with the pCMV6-ENTRY control (Left lane) or pCMV6-ENTRY SHH (RC222175, Right lane) cDNA for 48 hrs and lysed. Equivalent amounts of cell lysates (5 ug per lane) were separated by SDS-PAGE and immunoblotted with anti-SHH. Positive lysates LY424868 (100ug) and LC424868 (20ug) can be purchased separately from OriGene.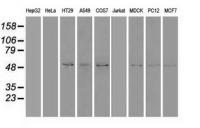 Western blot analysis of extracts (35ug) from 9 different cell lines by using anti-SHH monoclonal antibody.